SHORT DESCRIPTION
Kru Ann just came back in her family garden in the North Thailand. With her rich experience in eco farming and seeds collecting, she wishes to welcome volunteers to support her sustaining traditional agriculture practices and passing down valuable knowledge to interested people. Hug Baan Den Vegetable Garden spans approximately ½ hectare and features a variety of products including longans, pomelo, bananas, and organic vegetables, all cultivated using traditional farming methods. The garden also serves as a source for preserving local culture and ensuring food security for future generations through the cultivation and storage of seeds. Kru Ann was a volunteer host for DaLaa volunteers in the last 4 years in her former project "Yodrak organic farm" in South Thailand and all volunteers did enjoy and learn a lot from her and her companion.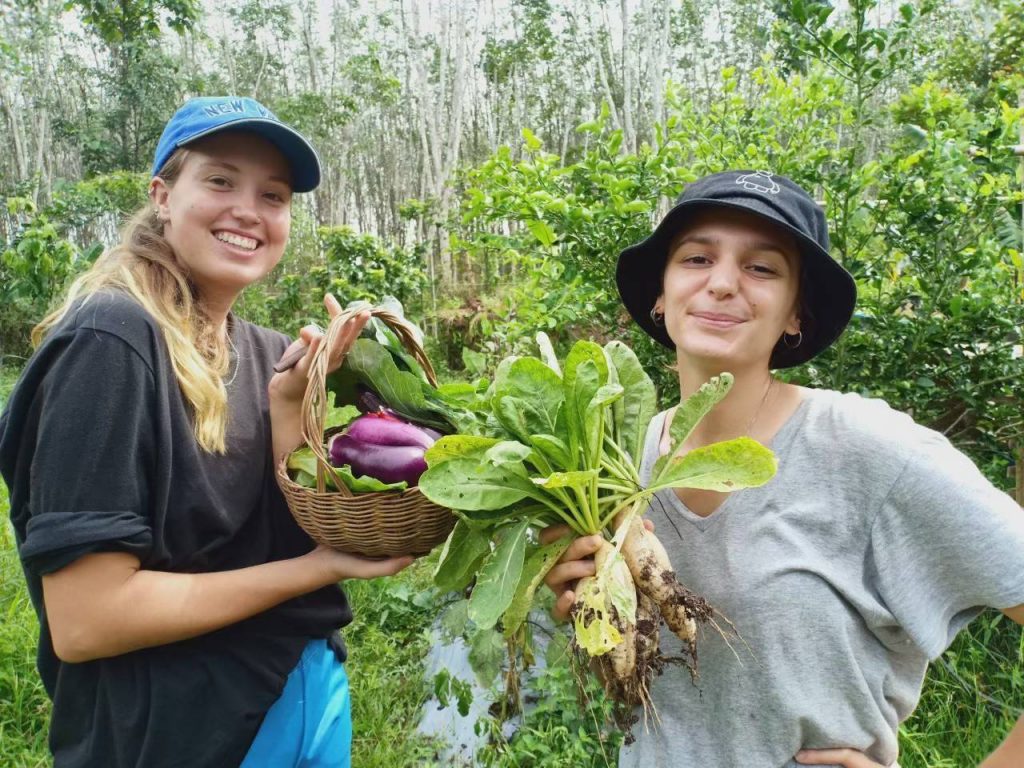 AIMS of the Placement
We hope every volunteer to gain insight into traditional Thai farming techniques, immerse themselves in Thai culture, explore Thai cuisine, language, and engage in an exchange of cultural traditions through mutual interaction with the local community.
WORK AND ACTIVITIES
Cultivate organic vegetables, harvest and store seeds, engage in cooking traditional Thai dishes and desserts using garden products, and participate in community cultural endeavors while also offering English learning opportunities for children.
Volunteers will engage in a range of community-centered initiatives, including collective farming endeavors like cultivating garlic and various crops. Contribute to English teaching sessions at a local school, collaborating with English-speaking educators. Take part in community and religious events, embracing Buddhist practices, and joining cultural festivities. Further strengthen community bonds through shared culinary experiences, crafting delectable dishes and desserts, as well as engaging in herbal activities alongside with community members.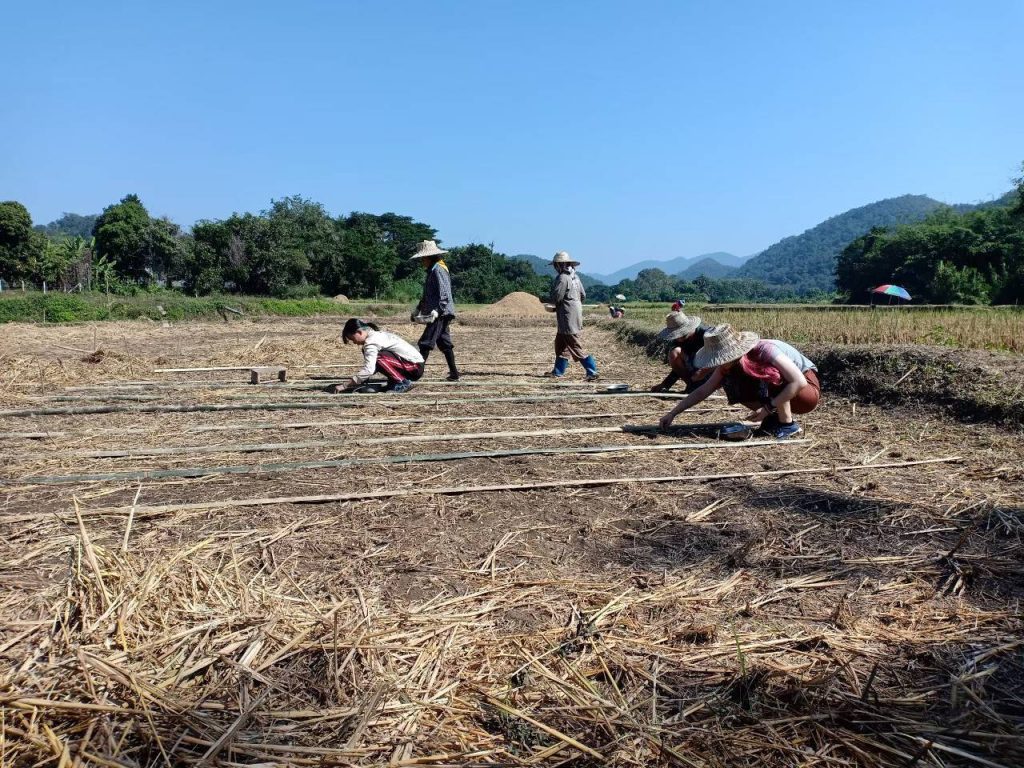 Food and accommodation
We will cook and live together. There's a private room available that can accommodate up to 2 people. The host provides simple bedding. If you have special need, please inform us in advance.
Internet access is available through AIS, Dtac, and True signals. Banking services, including Krung Thai Bank, Bangkok Bank, and Government Savings Bank, are located 16 km away from the house. Within the district, there are four markets situated 16-20 km from the host's residence. Moreover, laundry facilities are conveniently provided with a washing machine at the host's house.
Information about the area
Hug Baan Den Organic Farm is situated in Baan Den Udom, a serene village located in the heart of a valley with a flowing river in Thoen District, Lampang Province, Northern Thailand. This village thrives on agriculture, with around 70 households engaging in rice farming, gardening, and raising animals like
chickens, fish, and cows in accordance with the seasons. Rooted in the traditional way of life of the Thai Lanna people, the villagers also uphold Buddhist practices. The village holds various agricultural-related traditions like "Raek Na Khwan", "Burning Khao Lam", Buddhist Lent, "Loi Krathong" lantern festival, New Year's Day, and "Songkran" water festival. The weather consists of three distinct phases: hot summers February-May ranging from 39 to 42 degrees Celsius, rainy period May/June to September/October with temperatures of 28 to 38 degrees Celsius, and cooler winter November to January spanning 10 to 25 degrees Celsius. During the rainy season, villagers frequently venture into the forest to gather forest products, including mushrooms and other natural vegetables.
This village is a very safe place. There are no thieves, and its closed-off nature ensures safety during epidemics. It's located at the end of a sub-district road, adjacent to a protected forest, allowing only a single entry and exit point.