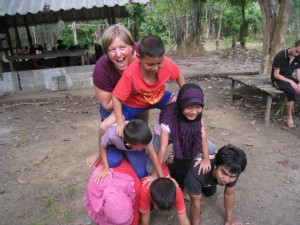 Sawaddee everyone,
Happy belated Thai New Year's. Pi Chaba (Leslie from Belgium), one of our Kok Payom volunteers who just finished her term not long ago, has shared some of her thoughts from her voluntary service time with us.
สุขสันต์วันสงกรานต์ย้อนหลังค่ะ ทุกคน
วันนี้ เรามีข้อความสั้นๆจากพี่ชบา หรือเลสลี่ อาสาสมัครจากประเทศเบลเยี่ยมที่ได้ไปร่วมค่ายที่โคกพยอม และเพิ่งเดินทางกลับประเทศไปเมื่อไม่นานมานี้ ใครอยากรู้จักมุมมองที่แตกต่างของพี่ชบา สามารถอ่านได้จากข้อความด้านล่างนี้ (พวกเราจะแปลเป็นภาษาไทยให้เร็วๆนี้นะจ๊ะ)
Volunteer work, a story of life
It's the second time that I am a long term volunteer, my first experience was in Kenya, I stayed there for 6 month. I thought it would be my last experience, I even wanted to live in Kenya forever but my work situation allows me to take 3 month to live again this wonderful experience but in Thailand this time.
The project was in Kok payom village and I lived in a place called Salaa and I shared this place with other volunteers. We were English teachers in 3 schools. For me, teaching kids was more a way to be with the kids by teaching them, and when you are with the kids, you meet the parents, and when you are with the parents, you are part of the village and that was exactly what I wanted.
When you know that you stay there for a short time, if you really want to BRING something to people, to the village, if you want to leave something behind you or, in this case, that kids talk English before you leave, you can be very frustrated, you can be hurt by the kids, by their lack of motivation sometimes and each difficulties you meet like "ohhhh today, what did they learn from me?" will be very difficult to accept because you want to change their lives but when you come without any expectations, except be with people, learn from them and live with them, you are never disappointed, every day, you know more about the culture, about the Thai way of life, the Thai food, everything is new and everything is surprising. Every Thai word you learn is a new way to communicate with people.
Finally, I think I Iearned more Thai that they learned English, even if the aim of each lesson was to teach them English but I'm not sure that learning English for them was so important because English language is just a way for them to communicate with tourist or volunteers. Also Thai and English are so different… I understand that they prefer learning Arabic language because with that, they can practice their religion how they decide, or how they think it's the right way for them. Also, the international volunteers learned how to speak Thai so no need for them to learn our language.
I think to be a volunteer is not easy for everybody and can be very frustrating for people who really want to change the local life of people and it can be bad for the local people to see that volunteers want to change their way of life and it gives the idea that other countries are better than them and for me, as a volunteer, it was exactly the opposite message that I wanted to bring.
They have everything we can dream about: they live together, learn together and work together, a thing that we often forget in our countries and I was very proud to be part of this process with them.